Roundtable on exercising the right to compensation
Exercising the right to compensation for victims of serious crime in criminal proceedings and challenges in its implementation – these were the topics of today's roundtable which included representatives of the Supreme Court of Cassation and courts from four appellate centres in Serbia.
The round table was organized by the OSCE Mission in Serbia, as the chosen partner of the Ministry of Justice on the implementation of the "Support of victims and witnesses of crime in Serbia" project, financed by the European Union.
The meeting opened with a keynote by judges Radmila Dragičević Dičić and Ljubica Milutinović, long-time judges of the Supreme Court of Cassation, and public prosecutor Tatjana Lagumdžija.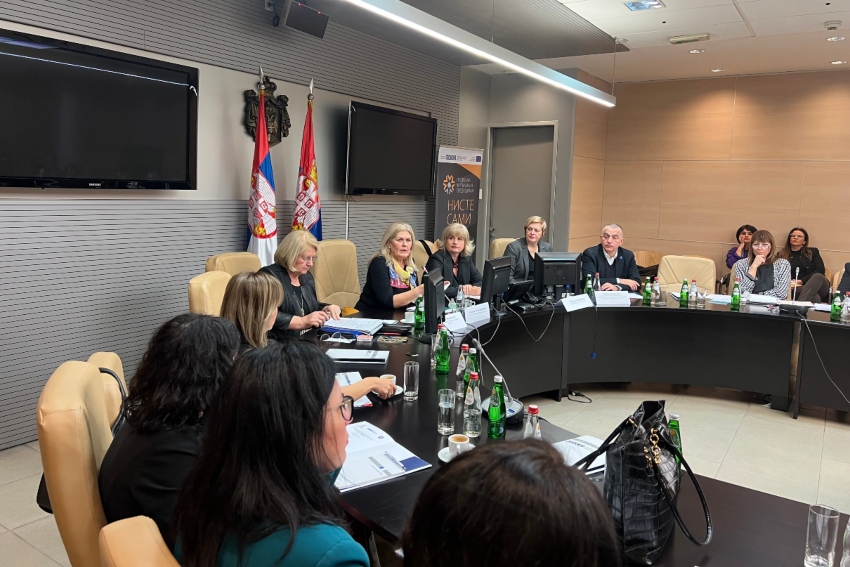 Reports about judicial practice in terms of exercising the right to compensation for victims of crimes were submitted by the representatives of four appellate centres (Belgrade, Kragujevac, Novi Sad, Niš) and the Higher Court in Vranje, and special attention was paid to challenges in implementation together with the Supreme Court of Cassation and the Republic Prosecutors Office.
The participants of the gathering agreed that certain positive developments have been observed regarding criminal cases in which compensation was legally awarded to the aggrieved party for non-material damage. On the other hand, it was also concluded that it would be worthwhile to consider the possibility of introducing a state compensation fund for victims of criminal acts, as certain international and European instruments foresee, as well as that, for the purpose of improving judicial practices, it was necessary to continuously hold consulting sessions in order to monitor judicial practice and harmonize the practices of all courts all over Serbia.
« Back