Presentation of guidelines for damage compensation
The possibility of exercising the right to compesation in criminal proceedings is one of the preconditions for establishing a criminal justice system that focuses on the needs of victims of crime.

This is why considerable attention at this year's 'Judges' Days,' the Annual Conference of Judges of the Republic of Serbia, was also dedicated to the presentation of " Guidelines for the Improvement of Court Practice in Procedures for Compensation for Victims of Serious Crimes in Criminal Procedure."

The drafting and publication of the Guidelines was supported by the OSCE Mission to Serbia as part of the project "Support for Victims and Witnesses of Crime in Serbia," which is implemented by the OSCE Mission to Serbia as the elected partner of the Ministry of Justice, and funded by the European Union.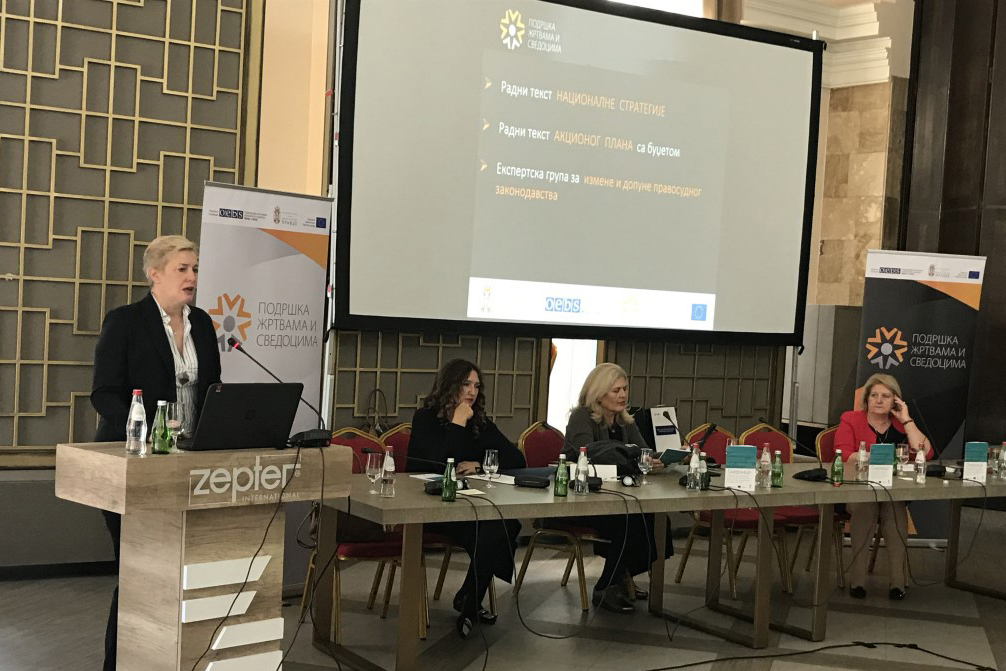 "These Guidelines, as well as a number of other activities carried out through the three-year project 'Support to Victims and Witnesses of Crimes in Serbia,' are aimed at raising standards in respecting victims' rights in criminal proceedings in Serbia and bringing it closer to European and international standards" - as stated by Nataša Novaković, the Human Rights and Criminal Justice System program manager of the OSCE Mission to Serbia.

The Chair of the Working Group in charge of drafting the Guidelines, Judge of the Supreme Court of Cassation, Radmila Dragičević Dičić, said that these Guidelines are a result and a good example of cooperation between judges and prosecutors. She emphasized that the judges of the civil departments have made a major contribution to this work, and have translated their extensive knowledge and experience into a practical handbook that will assist prosecutors and criminal judges to secure the right of victims of serious crimes to compensation.
Recalling that the prerequisite for the realization of the property claim of the victims is their right to be informed, Tamara Mirović, Deputy Republic Public Prosecutor, pointed out that the public prosecutor, as usually the first body which a victim makes contact with, has a direct obligation to provide all the necessary information, in a comprehensible and accessible manner.
Supreme Court of Cassation Judge, Ljubica Milutinović, stressed the importance of resolving the issue of compensation to the victim in criminal proceedings, wherever there are conditions. In this respect, she emphasized the important fact that, in addition to the general instructions and explanations, these Guidelines contain three practical additions: a model order for an expert witness, a model part of the operative part of the judgment in which a claim is decided, and relevant examples from case law of civil departments in the case of compensation for damages incurred as a consequence of a criminal offense.
« Back