Instructional seminars for police officers begin
The rights of victims and presentation of Ministry of Interior's mandatory instruction for dealing with victims – are in the centre of two-day instructional seminars for police officers of the Ministry of Interior, which are organised by OSCE, as the chosen partner of the Ministry of Justice, within the "Supporting victims and witnesses of crime in Serbia" project.
Chief Coordinator at the Police Directorate Bekir Dudić talked about the role of the police, as the most frequent first contact for victims of crime at the beginning of the seminar which was held in Belgrade today. Deputy State Prosecutor Tatjana Lagumdžija talked about the rights of victims from the angle of national and international legal framework, while Dr Biljana Simeunović Patić, a professor from the University of Criminal Investigation and Police Studies, spoke about secondary victimization of victims of crime.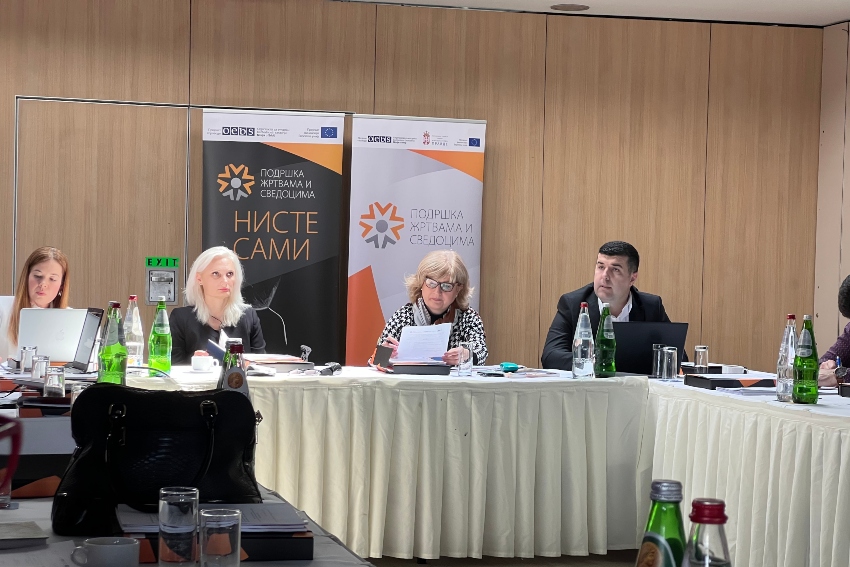 MoI's mandatory instructions for dealing with victims while questioning them and risk assessment of vulnerability and the need for protective measures and support for victims of crime were presented to police officers, and special attention was given to these actions in cases when victims are minors. Jelena Tomković and Olivera Zečević from the Criminal Police Directorate, Ministry of Interior of Serbia, shared their knowledge of these areas with their colleagues.
On the second day of the seminar, police officers who serve as contact points will gain specific knowledge about communicating with victims, and the skills to conduct such conversations.
Instructional seminars will take place continuously throughout Serbia, and after the one in Belgrade, seminars in Novi Sad, Kragujevac and Niš are also planned.
The "Supporting victims and witnesses of violent crime" project is funded by the EU with the goal of helping improve the position of victims and creating a comprehensive system of help and support for victims and witnesses of crime.
« Back