Guidelines for victim compensation – Belgrade
By improvement of court practices, victims of severe crime will be able to exercise their right to compensation of damage easier than before, when they were diverted to protracted litigation. This will be secured by the implementation of "The Guidelines for improvement of court practices for compensation proceedings for victims of serious crime in criminal proceedings" developed by the Supreme Court of Cassation Working Group, with support from the OSCE Mission in Serbia.

The Guidelines were primarily presented at the Judges' Conference in Vrnjačka Banja, with an aim of educating as many judges, prosecutors, lawyers and other participants in the proceedings, and a series of presentations began in November in several towns across Serbia.
The first professional presentation to have contributed to more efficient compensation proceedings took place in Belgrade, and it was attended by representatives of higher public prosecutor's offices in Belgrade, Smederevo and Valjevo as well as higher courts in Belgrade, Pančevo and Smederevo.
In addition to general guidance and explanations incorporated within the Guidelines, attendees paid special attention to a part representing a concrete manual of procedures. The Guidelines bring model of expertise, model of the part of the judgment in which the property claim is decided, as well as relevant examples from the case law of civil departments in the case of compensation for damages incurred as a consequence of the criminal offense.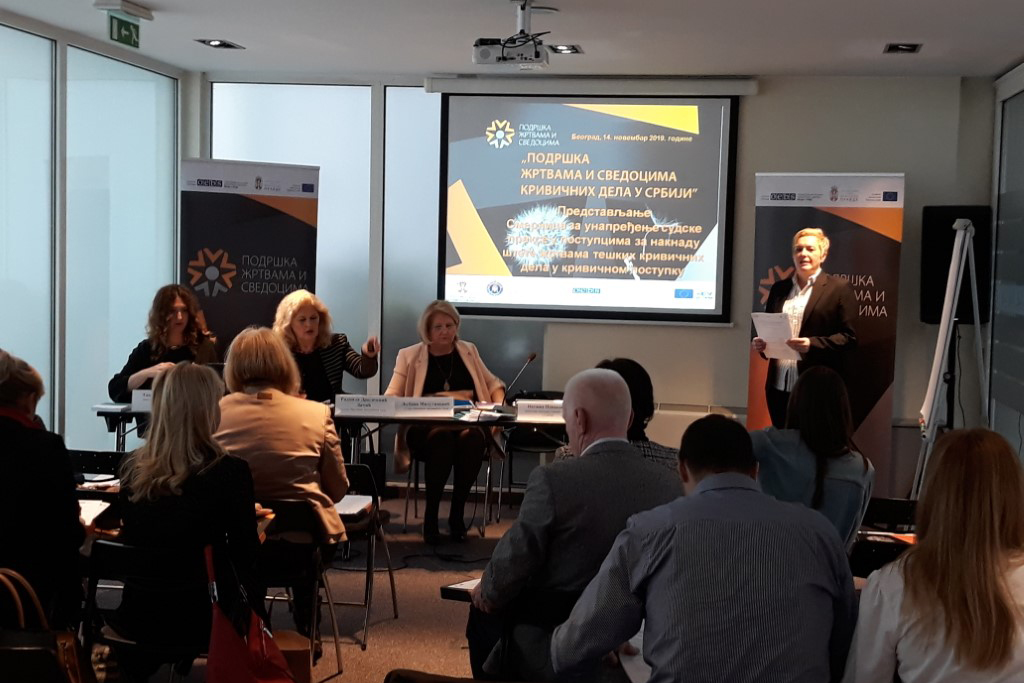 Presentation of the Guidelines is carried out as part of the project "Support for victims and witnesses of crime in Serbia", funded by the European Union, with support of the OSCE Mission to Serbia as a chosen partner of the Ministry of Justice.
« Back